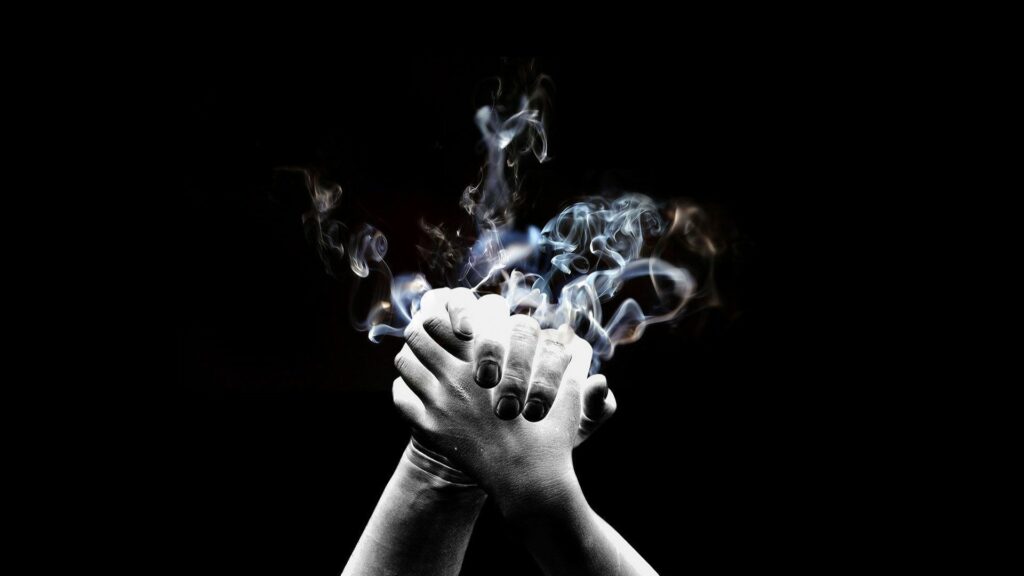 The Hand of God is mighty upon us even now. There is a level of Grace that the LORD has increased upon the Body of Christ in this time of awakening.

I tell you the truth, God is so active in our lives now more than we know it. We may be concerned with the state of the natural happenings around us, but we are right at the center of encounters with God.

Just like Jacob was troubled about his natural condition which looked seemingly miserable, yet he was in the best place. The place of encounter where the heavens were opened over him, Here, he saw the LORD and received the covenant.

And Jacob awaked out of his sleep, and he said, Surely the LORD is in this place; and I knew it not. Genesis 28:16

Do not wait for goose bumps and whirlwinds and brimstones falling on your roofs as an indication that God is with you and faithfully keeping you. Better still look out for the fire, and the overwhelming waters, the trials are the indication. The trials are saying that God is definitely with us. They are fulfilling scriptures.

The power of the name IMMANUEL is activated in the fires and overwhelming waters;

When thou passest through the waters, I will be with thee; and through the rivers, they shall not overflow thee: when thou walkest through the fire, thou shalt not be burned; neither shall the flame kindle upon thee. Isaiah 43:2

presently, there is this heavy pressure the enemy is releasing upon the Body because of the protracted wait. This pressure is coming with voices of condemnation. But there is a blessing God is revealing in and to us as our bedrock and a new normal experience. A relaxed kind of faith.

The Lord spoke this morning during a time of meditation and said "My word is immutable, it is the only reality, complete in itself and needs no additions. It never returns to me void but fulfills all my counsel. Awaiting its fulfilment is the highest demonstration of your faith"

What does this mean? See this kind of faith play out in the life of Jacob;
God appeared to him and made a covenant with him, The LORD promised him protection and the blessing of Abraham, yet look at his response;

And he called the name of that place Bethel: but the name of that city was called Luz at the first. And Jacob vowed a vow, saying, If God will be with me, and will keep me in this way that I go, and will give me bread to eat, and raiment to put on, So that I come again to my father's house in peace; then shall the LORD be my God: Genesis 28:19-21

Observe carefully the last part, then shall the LORD be my God: this statement clearly shows that there were no spiritual gymnastics for him to do but he was just going to wait and see God fulfil his counsel.
The entire job was relinquished to God. He was not going to prove his faith to God but rather he was going to watch God prove his faithfulness to his word. Did God do it? I surely won't be writing this if THE LORD failed.
At the end of his life, leaning on his staff and blessing his children he revealed the secret of his faith;

I have waited for thy salvation, O LORD. Genesis 49:18

Sarah waited and waited until the promises sounded like a usual tale to her. Even before the angels she did burst out laughing in doubt at the word. Yet her waiting was her demonstration of faith and the promise fulfilled at the time of life.

Even under the law Zechariah did not believe God's word, though he was chastised because he was a under the old covenant yet the word of God came to pass despite his unbelief.

If we believe not, yet he abideth faithful: he cannot deny himself. 2 Timothy 2:13

Even today God is keeping you and fulfilling his counsel upon your life because faithfulness is who He is. Because he changes not be rest assured that you are kept and his gifts and calling are irrevocable. God loves you, God truly loves you, God so much loves you more than you think.
He has kept you in his grace and not in your efforts. He has made Himself your faith.

You may have been weak in faith, you may have cried, panicked and stumbled a lot but hang on. Keep waiting and looking to Jesus, for this is your highest demonstration of faith.
God loves you and has you covered. His love will never fail you.

In an encounter with the LORD I saw a scene of his resurrection and I saw people rising and following him.

The Spirit Led me to this scripture;

Be silent, O all flesh, before the LORD: for he is raised up out of his holy habitation. Zechariah 2:13

Then The LORD said to me, "Say to My Body, 'Awake for I have given you light, I have waited to see my treasure manifest in you and now I have it.

Your nothingness is my treasure. Now that you are not, I AM. My glory will now be demonstrated and the mighty silenced before me.

Awake for I AM risen in you, Look beyond your nothingness to The LORD your fullness and rise with me.' "
Blessings in Christ,
Pastor Jahfas Victor Ahua
Living Hill Christian Church
May 8, 2020