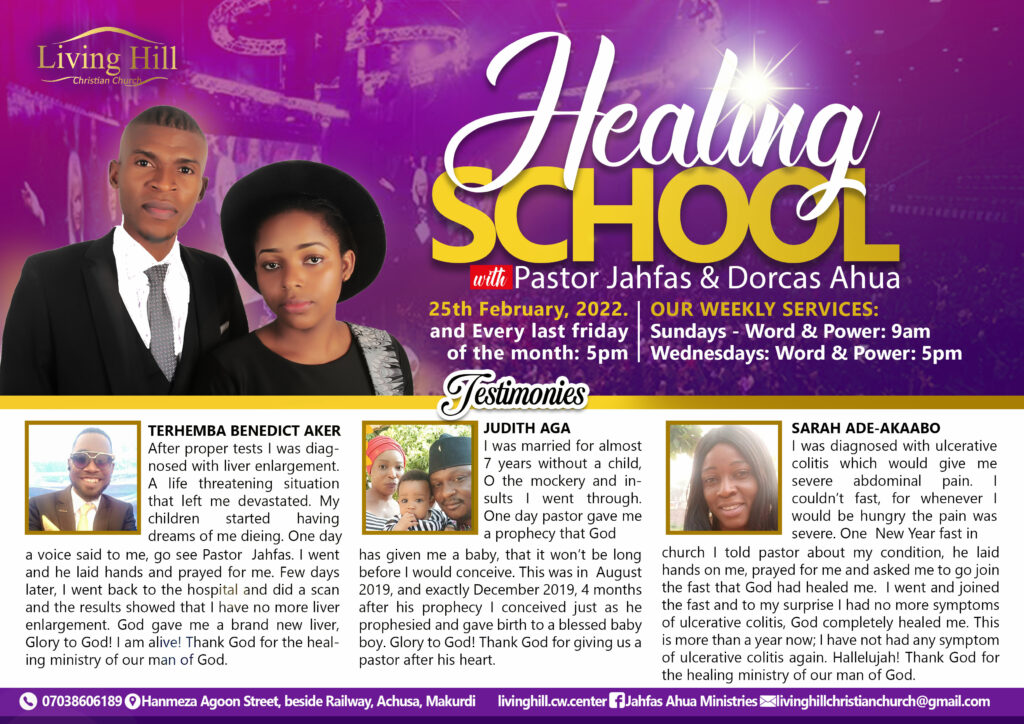 The Healing School is a ministry God gave to our man of God for the the life and health of the world. God has sent Pastor Jahfas with The healing power of Jesus to this hurting world.
We have begun the documentation of some of these many testimonies of God's healing power through our man of God into the lives of people to glorify God, to build faith, and to thank our partners for what their support is doing through this ministry.
Thank you friends and partners for the lives God is using you to touch through your partnership.
After proper tests I was diagnosed with liver enlargement. A life threatening situation that left me devastated. My children started having dreams of me dieing. One day a voice said to me, go see Pastor Jahfas. I went and he laid hands and prayed for me. Few days later, I went back to the hospital and did a scan and the results showed that I have no more liver enlargement. God gave me a brand new liver, Glory to God! I am alive! Thank God for the healing ministry of our man of God.
I was married for almost 7 years without a child, O the mockery and insults I went through. One day pastor gave me a prophecy that God has given me a baby, that it won't be long before I would conceive. This was August 2019, and exactly December 2019, 4 months after his prophecy I conceived just as he prophesied and gave birth to a blessed baby boy. Glory to God! Thank God for giving us a pastor after his heart.
I was diagnosed with ulcerative colitis which would give me severe abdominal pain. I couldn't fast, for whenever I would be hungry the pain was severe. One day we were about to start the New Year fast in church and I told pastor about my condition, he laid hands on me, prayed for me and asked me to go join the fast that God had healed me. I went and joined the fast and to my surprise I had no more symptoms of ulcerative colitis, God completely healed me. This is more than a year now; I have not had any symptom of ulcerative colitis again. Hallelujah! Thank God for the healing ministry of our man of God.
Updating More Testimonies……