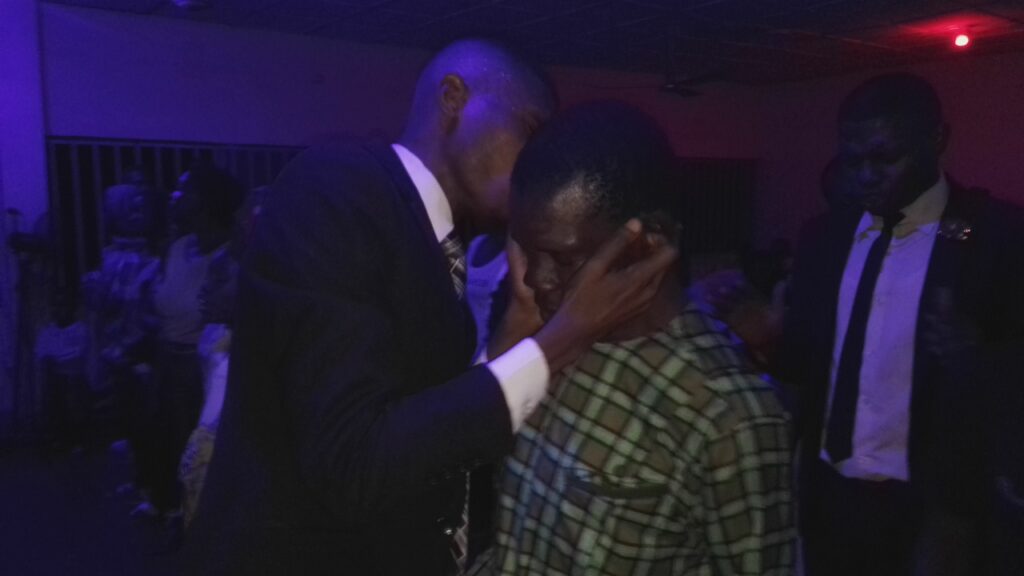 God's Grace in Romans — Christ, the Way Out!
We saw from our last discussion that, before new birth, and after the new birth, no man can serve God in the flesh for therein lies no good thing, the flesh is destitute of the power to perform good works.
So we hear the apostle continue;
"For the good that I would I do not: but the evil which I would not, that I do." Romans 7:20.
Without reliance on the Spirit he explains how miserable we are. He knew God's law is good but "the good that I would I do not," rather my flesh lusts after that which is forbidden.
This total inability of the flesh to do that which is good he calls a law.
"I find then a law, that, when I would do good, evil is present with me." Romans 7:21.
This evil he speaks about is not something externally present around him, however, as he had stated earlier in verse 18, in his flesh lies no good thing.
His born-again Spirit is created according to God, but it is trapped in a body that is dead because of sin.
So the new man longs to serve God;
"For I delight in the law of God after the inward man," Romans 7:22.
But the total depravity of the flesh has become a force against his spirit (Galatians 5:17).
"But I see another law in my members, warring against the law of my mind, and bringing me into captivity to the law of sin which is in my members," Romans 7:23.
Observe carefully this; the word used above for law is from the Greek NOMOS and it means "a force or influence impelling to action" (Vine's Expository Dictionary).
It does not mean the sin nature or the old man directly but it speaks of that which influences sin. The total depravity of the flesh is a constant influence or propelling force of sin.
The old patterns, attitudes, emotions and mindsets the sin nature left behind are constantly at war with the mind of the Spirit.
This total depravity of the flesh to respond to God in itself which he termed the law or influence of sin in his members he now explains it clearly, calling this law "the body of death."
"O wretched man that I am! who shall deliver me from the body of this death?" Romans 7:24.
Just like it is a law that a dead man cannot respond to stimuli, even so he calls it a law that a body dead in sin cannot respond to the things of God, (Romans 8:10).
He tried using the law to ignite his body to respond to the things of God, however, the law only commanded him but couldn't give his flesh life to do that which is good, (Galatians 3:21).
He resorted to human strength and academic excellence for he was well educated but this couldn't help him either, (Philippians 3:4-7).
He now finds himself where God wants all men to be, "O wretched man that I am," sinners in need of a saviour.
Complete nothings without God's help. Totally depraved with no plea, our only hope is a saviour outside of ourselves.
So he reaches out "who shall deliver me from the body of this death." Only one man is capable, the Lion of the tribe of Judah has prevailed. Only his life can revitalize the body to respond to God.
"I thank God through Jesus Christ our Lord. So then with the mind I myself serve the law of God; but with the flesh The Law of sin." Romans 7:25.
So through the energy of Christ at work in me, my body can be quickened to serve The LORD.
But the Truth still remains that in my flesh alone, "I serve The Law of sin" — but I am not only flesh, in my mind, in my inner man — I serve The Law of God.
Confession
Thank you LORD Jesus for The Salvation I have in you!
Christ my strength, Christ my wealth, Christ my health, Christ my all.
I cannot be weak and I cannot be defeated, for You are my sum of all spiritual and material things.
I can do all things through your energy at work in me.
Glory to God!
Prophetic Insight
I saw many sons and daughters of The LORD hoping and wishing to break grounds and begin the possession of their promise, however, many felt the capacity needed, or what it takes to command authority in these territories won't be released by the father to them.
They are seeing themselves not fit for these huge breakthroughs.
But hear what The Father says to you, "I AM for you dear Child. saved you because I have always desired to give you The Kingdom.
My Life I have laid down as a proof that nothing is too big for Me to give to you. How much more these little blessings?
I will hold back nothing until you are lifted. I have freely given you all things my dear elect . I will never accept any evil charge against you for I AM your own justice.
Watch out for the Signs of this Word. You will begin to see little but tangible manifestations of My Favour.
Do not wave them off as just another fleeing Dream. Pick these Signs, hold unto this little signs and reach out for the greater blessings"
"What shall we then say to these things? If God be for us, who can be against us? He that spared not his own Son, but delivered him up for us all, how shall he not with him also freely give us all things? Who shall lay any thing to the charge of God's elect? It is God that justifieth." Romans 8:31-33.
Blessings in Christ,
~ Pastor Jahfas Victor Ahua
Living Hill Christian Church.