God's Grace in Romans.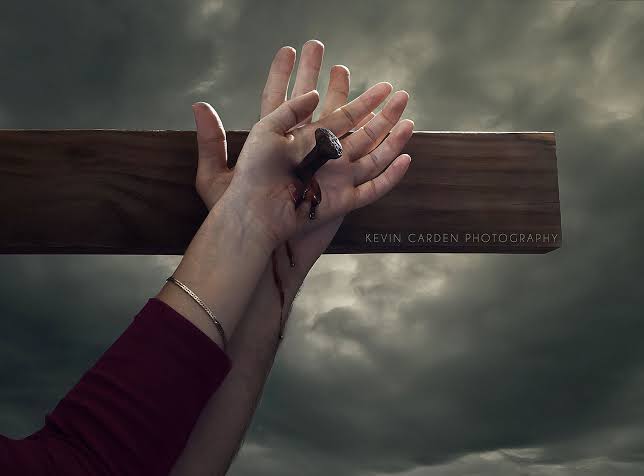 We saw from our last discussion the place of tribulation, patience, experience and hope in our walk with God. We saw that tribulation do not produce patience, but it exercises the fruit of patience already resident in the spirit of the believer. And while we are patient, we gain experience as we hope in the positive picture created by God's word in our hearts which never disappoints because it is backed up by God's love.
Then the apostle continues;

For when we were yet without strength, in due time Christ died for the ungodly. Romans 5:6
Observe carefully the language used in expressing God's love in the verse above, "For when we were yet without strength" an expression of the total depravity of man. Completely held captive by the devil and were enemies with God through our wicked works.
Our lives were not ok and then Jesus came to spice up our lives. We were not good people on our best behaviour then Jesus came to make us better , but we were ungodly, dead in our sins and the uncircumcision of our hearts (Ephesians 2:2).
Then "in due time Christ died for the ungodly," O' the love of God, Christ our saviour died not for those who see themselves as good people, but for the weak and depraved sinners as I and you.
If we were somehow good before God's eyes his death for us would somewhat be justifiable since we could say he died for us while we were loving and following his Will, however, it wasn't so with us, yet he chose to lay down his life for the ungodly. This is why we hear;
For scarcely for a righteous man will one die: yet peradventure for a good man some would even dare to die. But God commendeth his love toward us, in that, while we were yet sinners, Christ died for us. Romans 5:6
While we were yet cussing and blaspheming God, while we were yet profaning the counsel of God. While we were yet haters of God through our wicked works. While we were yet living in disobedience, God's love kept on pursuing us.
God loved us enough to die for us while we were yet sinners, totally headed the opposite direction. Christ did not die for us because there was something good in us to deserve his mercy; however, God's love chose not to impute our sins against but upon his son Christ Jesus.
To wit, that God was in Christ, reconciling the world unto himself, not imputing their trespasses unto them; and hath committed unto us the word of reconciliation. 2Corinthians 5:19
While the Roman soldiers stood mocking and the Jews blaspheming the prince of life, we hear him proclaim forgiveness, "Father, forgive them for they know not what they do."
The apostle sat down and examined this love of God demonstrated in Christ and puts up and unchallengeable argument. That if God loved us enough to die for us while we were yet ungodly and directly expressing our dishonour of him through our wicked works..
Much more then, being now justified by his blood, we shall be saved from wrath through him. Romans 5:8
The very thing that could have disqualified us from God's goodness was our sins. Yet if in the presence of active sin the love of God could not be hindered, what else can separate us from the love of God?
If we were fighting against him but still yet his love prevailed "Much more then, being now justified by his blood we shall be saved from wrath through him"
Observe carefully the means of our justification, being the blood and not our works. The only thing that justifies is the blood and if this is so, then we ought not to fear the coming wrath of God, for "we shall be saved from wrath through him" and not through our works.
This is a simple argument, that if someone died for you while you yet hated him, when you become his friend, he will show you greater love and not greater condemnation. So the apostle declares;
For if, when we were enemies, we were reconciled to God by the death of his Son, much more, being reconciled, we shall be saved by his life. Romans 5:6
What qualified us to enjoy God's wealth is the life of his son, what keeps us is the life of his son, and what will save us from the wrath to come is still the life of his son and nothing more, "we shall be saved by his life."
What a loving assurance. Yet many of us are not assured absolutely in the love of God. It as though God loved us but the moment we became born again, God became unwarrantable toward every failure and more sensitive to judge when we now miss the mark.
No, never, beloved, God's grace abounds on us much more now that we are no longer his enemies. At least, now we have accepted him as our father, this alone has satisfied his heart and all he longs to do is to rejoice over us with the heart of a loving father.
This doesn't mean God won't correct us; however, he does it in love, to keep us from evil and not to condemn the ones Christ died for. Because, of a truth, we are a joyful generation for through Christ we have received the atonement for our lifetime of sin.
And not only so, but we also joy in God through our Lord Jesus Christ, by whom we have now received the atonement. Romans 5:11
Confession
Gracious father, I am blessed to have come to understand your heart of love toward me. Oh I am beloved of my father. Before I was formed in my mother's womb you knew me, knew my sins and died for me before any of them came into being.
Now that I have received your forgiveness, much more does your grace abound toward me? Thank you father for daily your love and faithfulness supplies to me divine health, heavenly wealth, unquenchable peace, and unstoppable joy as I walk confidently in your presence.
Prophetic Insight
In an encounter with the Lord, I heard "Do not think your labour has been in vain, do not think your God has left you unrewarded. Now is the acceptable time, as the seasons unveil, you will see my favour made manifest over you, Favour upon favour.
I have prepared you as a manifestation of my covenant, passed you through the furnace of fire to show forth my beauty. I have heard you dear one and I will help you, I have chosen you to make manifest my covenant of blessing to your family, nation and the world, to cause many to see my face and to receive their inheritance. People will see you and glorify your God.
Do not be afraid, I will preserve you. I will help you that they may know that I love you, that I am faithful and that I am the true and only God who will not forsake those that trust in him."
Thus saith the LORD, In an acceptable time have I heard thee, and in a day of salvation have I helped thee: and I will preserve thee, and give thee for a covenant of the people, to establish the earth, to cause to inherit the desolate heritages; Isaiah 49:8
Blessings in Christ,
Pastor Jahfas Victor Ahua
Living Hill Christian Church