July 15, 2021
Discovering Christ in Ephesians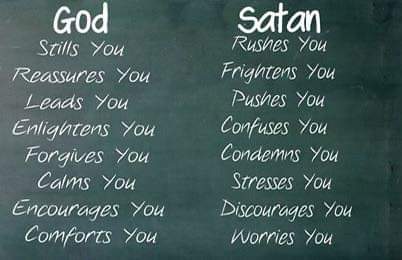 Tricks: The Power Of The Devil
We saw from our last discussion how the husband is to love the wife, by laying his life down to cleanse, purify and present her to himself without reproach.
Then in this 6th chapter from verse 1-9 he speaks of submission to parents, masters as unto the Lord which we dealt with in our previous discussion.
But the 10th verse opens up something new. We hear;
Finally, my brethren, be strong in the Lord, and in the power of his might. Ephesians 6:10
After giving so many charges, the apostle here reminds the Christian that non can be accomplished in human power. And every other enemy we face in life cannot be overcome by human power.
There is a place where we can be strong and that is in the Lord. In there is power and might reserved for us in times of great need.
How do I become strong in the Lord?
Put on the whole armour of God, that ye may be able to stand against the wiles of the devil. Ephesians 6:11
We put on the whole armour of God. Observe sensibly that it does not say some armour of God but the "whole," the entire amour of God.
We shall observe each item that makes up the armour of God as we proceed. But there is something very important we must first take cognizance.
What are we putting on the entire armour of God to stand against?
We hear "that ye may be able to stand against the WILES of the devil." (Emphasis mine)
The word used above for wiles is from the Greek word "methodeia" and it means trickery, travesty ( Strong's 3180).
The only thing the believer puts on the whole amour of God to fight against is just the tricks of the devil. This is big but not many of us have truly seen this. It is as though we missed the parade.
The devil is a defeated foe. He is just like a toothless dog. He is not a lion just like one because of his big mouth, a lion roars loudly remember. He just has a big mouth. Take that Mr devil!
I know this goes against many of our already established doctrines of spiritual warfare which rather empowers Satan.
However, when you observe things thoroughly through the scriptures you will discover that the cross of Christ does not make vague statements about Christ destroying the devil and striping him of all power.
We hear in Hebrews;
Forasmuch then as the children are partakers of flesh and blood, he also himself likewise took part of the same; that through death he might destroy him that had the power of death, that is, the devil; And deliver them who through fear of death were all their lifetime subject to bondage. Hebrews 2:14-15
Observe carefully what it says, it says Jesus destroyed him that "had" the power of death, that is the devil. He no longer has that power any longer, we are the ones that keep empowering him in our lives.
He tricks us, so we would submit to his lies and become his slaves. But if you know who you are in Christ the devil is a non factor. That power is right now in the hands of Christ;
I am he that liveth, and was dead; and, behold, I am alive for evermore, Amen; and have the keys of hell and of death. Revelation 1:18
Observe carefully who now holds the power of death in his hands " and have the keys of hell and of death"
Jesus took the power and authority of the devil and gave it to the believer. Today we are the ones empowering the devil. This authority is right now in our hands;
Behold, I give unto you power to tread on serpents and scorpions, and over all the power of the enemy: and nothing shall by any means hurt you. Luke 10:19
Many read this and say you know, even the devil has power. O that you may believe the scriptures.
What do we put on the whole amour of God to stand against? Wiles! The whole power of the enemy is just to trick you to give him your own power with which he uses to destroy you.
How does he accomplish this? The number one way is through fear. Observe again this verse from Hebrews;
And deliver them who through fear of death were all their lifetime subject to bondage. Hebrews 2:15
Through fear death is empowered in your life. The moment fear enters you are subject to bondage. Many Christian are more afraid of the devil than they are of God. They fear the devil more than the reverence God.
If the devil ever exercises authority over us its because we empower him. We submit to his lies of how powerful he his. When we obey him we delegate authority to him which he uses to destroy us;
Know ye not, that to whom ye yield yourselves servants to obey, his servants ye are to whom ye obey; whether of sin unto death, or of obedience unto righteousness? Romans 6:16
This is how Adam fell, he chose to obey Satan instead of God. He chose to fall for his lies(wiles) instead of what God had said concerning him.
He was created with authority and power which no other had, he was just like God upon the earth but he was fooled to believe he was less, this is still the trick being used on Christians to today.
We fast and pray for power, we are struggling daily with an already defeated foe.
I do not think demons give birth for there is not scriptural foundation for it. Imagine there were a billion demons before Adam chose to accept the lies of the devil, only two people upon the earth the devil and his billion demons couldn't touch for hundreds of years until man chose to hand over power unto him by accepting his lies.
You think Christ did a lesser work?
Our misconceptions and fear of the devil is what has been empowering him. But if you look deeper, he no longer has the power of death, power has being restored to us. It is in the hands of Jesus, and Christ has given all power to you, rise up and start acting like a victorious Christian that you already are.
Confession
Blessed Lord I thank you for the blessings I have in Christ. I have been created with the authority and power of Christ. I know who I am in Christ and fear has no hold on me, for I have not received the spirit of fear but of power, love and a sound mind.
I walk in power, reigning over all devils in life. I reign over devils of sickness, devils of poverty, devils of insanity. I tread over all the power of the enemy and nothing shall by any means harm me in Jesus' name. Amen.

Blessings in Christ,
Pastor Jahfas Victor Ahua
Living Hill Christian Church