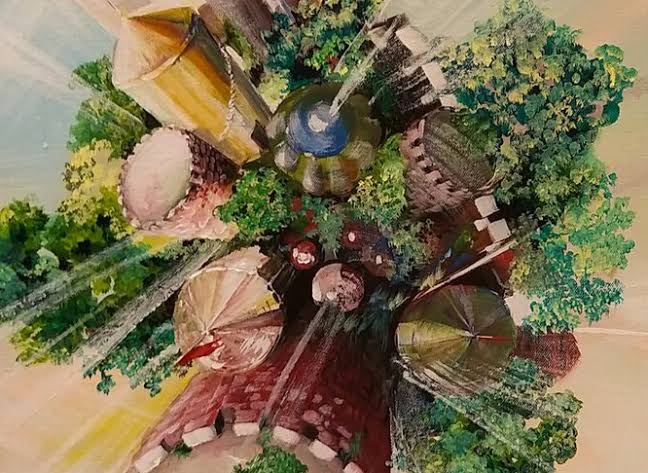 It is a wonderful moment indeed, the Lord is doing a great work in many of us right now.
There is an emptying of our trophies and counting of our medals as dung and embracing the simple but all encompassing, all satisfying and unspeakable inheritance, which is The Person of Jesus Christ.
With eyes fixed on Christ our inheritance, the changes in the season are becoming immaterial and the reality of the kingdom is steadily surfacing.
The season may be chaotic but there is a greater kind of grace The LORD is pouring out upon The Body even now ;

In an encounter with The LORD, I saw this vision of a Christian, he a had a heart for the truth and desired that the kingdom be planted in the hearts of men.
Then I saw a lady come to this Christian with so much affection, seeking to know the way of the Lord and I saw this Christian expound Romans 8:9 to the woman that the Spirit must be in you for you belong to The LORD.
"But you are not in the flesh but in the Spirit, if indeed the Spirit of God dwells in you.  Now if anyone does not have the Spirit of Christ, he is not His."
Then I saw this Christian pray and lay hands on this woman and I saw the Spirit come upon her with power and she fell under the power of God.
This Christian prayed for her again but this time he only needed to touch her hand and she still fell under the power of God.
Then as he intended praying for her the third time, I saw the Power of God overshadow her from a distance and she was totally shaking as she struggled to approach him.

Coming out of this encounter, The Spirit led me to the story of Isaac in Genesis 26. In a time of famine where the options were to run from sowing for fear of no yield and to look to other nations for provision, God told Isaac to not fear, to not run but to sow because it was not a matter of the season but a matter of God with him,
and when he did we are told;
Then Isaac sowed in that land, and received in the same year an hundredfold: and the LORD blessed him. And the man waxed great, and went forward, and grew until he became very great: Genesis 26:12-13

Then The LORD Said; "Say to My Body, 'I have times and seasons in My Hands and I say this is your season of sowing and reaping the superabundance.
I have poured out My exceeding Grace upon you and you are waxing great, going forward, growing and becoming very great in the demonstration of My Power, Knowledge, Wisdom, Understanding and Love.' "

Blessings in Christ;
Pastor Jahfas Victor Ahua
Living Hill Christian Church
April 21, 2020